Scerizza ©1979

NOT FOR SALE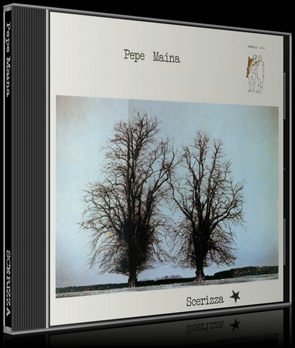 Reputedly Maina's first album failed to sell well and the next logical step was to switch into independent productions.His next album ''Scerizza'' (named after a village near Como) was exclusively written at his Nonsense Studio, recorded in two different periods, first side was written in summer 78', while the flipside was captured at the dawn of 1979.Maina handles a variety of instruments like guitars, keyboards, percussion, piano, harp and flutes and he is helped by Sri Boomotooni on bassoon (which was intended to be a joke, supposedly this was just the name of his dog) and well-acclaimed bassist Massimo Spinosa, while vocals were also delivered by Carlo Maina and Maria Corsello.
This one is definitely among the unique albums of Ethnic Prog, combining Meditterenean tunes with the depth of Progressive Rock arrangements and the album is a sincere, emotional and atmospheric journey into the magical lands of Italy, drawing dreamy soundscapes out of the Italian folkore and surrounding them often with typical rock instrumentation.The music is beautiful, but pretty hard to be described accurately.It is some sort of Orchestral Folk with constant sections of wind instruments and heavy use of acoustic string instruments, conducted in such way to produce emphatic, intense textures of old times, sometimes doubled by dark-sounding choirs.Very delicate stuff, that sounds both elegant and sinister.Maina though supports, especially in the longer tracks, these folky images with strong keyboard plays, mainly synthesizers and some harsichord, to come closer to Progressive Rock and a mood akin to MIKE OLDFIELD's works.Pastoral arrangements full of amazing colors, a bit similar to PANGEA, but the biggest surprise comes at the end with the lovely ''Al contadino non far sapere quanto sei cretino'', an attempt by Maina to mix Folk with Fusion with an impressive result, where archaic flutes meet a jazzy rhythm section, some orchestral synth lines and the mellow electric guitars.
An album to be discovered.The original LP is very rare, Maina has offered some remastered CD's through his website, but even if you won't ever reach a physical copy he made sure to offer this album digitally and for free via his website.Original Prog Folk with a Mediterrenean flavor, strongly recommended to say the least...


Tracks:
1) Il coro di Nava
2) Scerizza parte 1
3) Cocoon star
4) La danza dei pulcini
5) Sorpresa
6) Scerizza parte 2
7) Scerizza parte 3
8) Canzone di maggio
9) Al contadino non far sapere quanto sei cretino

DOWNLOAD THE FULL ALBUM (FLAC) & ARTWORK FOR FREE !! (304.8 MB)